You wouldn't read this if you weren't able to read German, so I'll switch to that language now:


Schmierige Geschichten: Bekenntnisse eines modernen Verführers
Schmierige Geschichten: Bekenntnisse eines modernen Verführers ist eine Sammlung von Aaron Sleazys erinnerungswürdigsten Begegnungen mit dem zarten Geschlecht. Er schildert seine unterhaltsamsten, verrücktesten und bizarrsten Abenteuer auf seiner Mission, im Nachtleben Londons und Berlins Frauen aufzureißen. Diese Memoiren zeichnen nach, wie Aaron Sleazy ein wahrer Meister der Verführung wurde. Obwohl dieses Buch die Erlebnisse von weniger als einem Jahr beinhaltet, enthält es mehr sexuelle Vielfalt und Kuriositäten als das gesamte Leben der meisten Männer.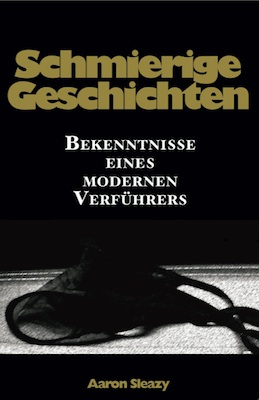 Obwohl Schmierige Geschichten kein Lehrbuch über die Verführung von Frauen sein will, sind die Geschichten, die es enthält, nicht nur höchst unterhaltsam, sondern auch mit faszinierenden Einblicken in die weibliche Psyche gespickt, die jedem, der an ihr interessiert ist, neue Erkenntnisse bringen wird. Egal, ob Du unterhalten, inspiriert oder über das wahre Wesen der Frauen aufgeklärt werden möchtest — dieses Buch wird Dich mehr als befriedigen!
Details und Bestellinformationen
Taschenbuch: 230 Seiten
Sprache: Deutsch
ISBN: 978-3-942017-02-2
Verlag: Black Swallowtail Publishing
Veröffentlichungstermin: 1. September 2011
Please note that I have no idea what's wrong with Amazon.de. The paperback is already available at Amazon.com and Amazon.co.uk, but the catalogue entry at their German site hasn't been changed. I'll email them about it.